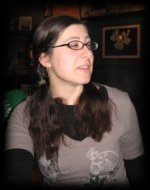 Sunday was Katie's last day at work. While I was sad to see Jackie go 2 weeks ago, Katie's leaving is rough.
Katie started only a few weeks after I did in 2000. In those 6 1/2 years, she has become one of the people I'm closest to at work. Just showing up was easier, knowing she'd be there. She borrowed books from me, cat-sat for us, made me laugh, made me cry and made me laugh again. The place I work this week is not the same place I worked last week.
All of the sadness, is just for me however. Katie's moving on, and moving up. I envy her for that. She's pursuing her dream, and she's taking a huge step to do so. So, while I'll miss her at work, I'm proud of her. I'm proud that she's braver than I am, and that I can count her among my close friends.